Crowd chants over Richard Spencers University of Florida talk
GAINESVILLE, Fla. (CNN) – Crowds of protesters gathered on the University of Florida campus in Gainesville on Thursday as white supremacist Richard Spencer arrived to deliver a speech on his racist views.
The event, which was taking place in the the afternoon, was Spencer's first planned visit to a college campus since he and others participated in the "Unite the Right" rally in Charlottesville, Virginia, in August.
With an intensive police presence on campus, protesters chanted, "We don't want your Nazi hate" and "Nazi scum off our streets." The anti-Spencer protesters, who vastly outnumbered the supporters, carried signs against fascism, neo-Nazis and white supremacy.
Spencer took the stage at the Phillips Center at just after 2:45 p.m.; those in the venue loudly booed and chanted against him. Protesters, many of whom stood with their fists raised, chanted to "Go home Spencer" and "Nazis are not welcome here."
"I'm not going home, I will stand here all day if I have to," a combative Spencer told the crowd, as people continued to chant.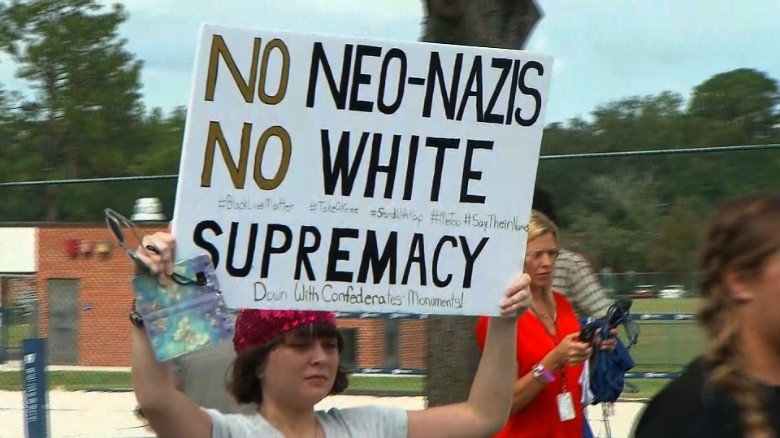 University and local officials were concerned that the event could become violent, and have taken considerable steps to prevent that.
On Monday, Gov. Rick Scott declared a state of emergency for Alachua County, where the university is located, to enable law enforcement agencies to work together more efficiently. He also made a provision for the National Guard to be activated if necessary.
"I find that the threat of a potential emergency is imminent," Scott said in the executive order declaring the state of emergency.
The event puts the university in the middle of an ongoing debate about what constitutes protected speech and the extent of its limits. Spencer is the president of the National Policy Institute and a leader of the white supremacist movement that advocates for a white "awakening" and a white state.
University of Florida President W. Kent Fuchs denounced Spencer's white supremacist platform as abhorrent in a letter to students but said the school could not stop him from renting the Phillips Center for the event.
Fuchs told CNN there will be more police on campus than at any time in the university's history.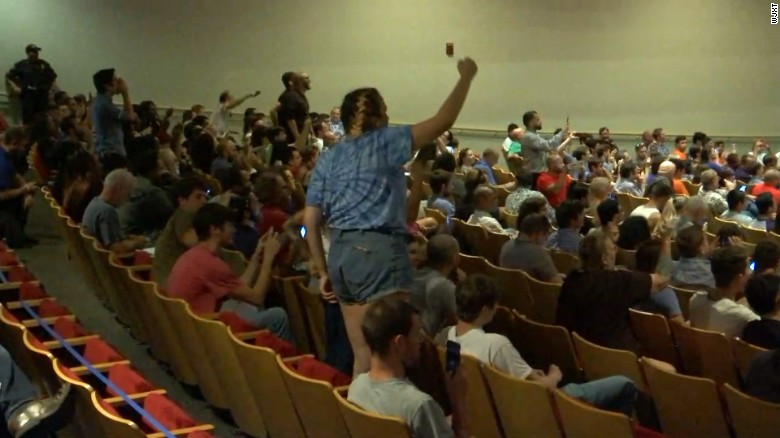 "It's not going to feel like a research university for 50,000 students, and the whole purpose of that is to keep people safe," he said.
Alachua County Sheriff's Office spokesman Chris Sims said the office used the lessons of Charlottesville in planning for the Florida event. The sheriff's office and the Gainesville Police Department had doubled or in some cases tripled their normal staffing levels as of Wednesday morning, Sims said.
Outside the speech venue, law enforcement sectioned off one area for pro-Spencer protesters and another area for anti-Spencer protesters, about 50 yards apart. The university also banned an extensive list of items, including torches, masks, weapons and athletic equipment that could be used as a weapon.